There's no secret that Adobe Photoshop is one of the most advanced and feature-packed photo editing software that both professionals and novice designers use to create visually appealing designs. Photoshop has a plethora of features that give designers the ability to manipulate different elements of an image and enhance its overall quality.
One such feature that was recently introduced in Photoshop is Artboards. Artboard is basically a separate layer in Photoshop that allows designers to work on multiple designs (officially known as canvases) within the same document. So, instead of switching between multiple layers, designers can work on their design on the same layer and speed up the entire designing process.
But, since Artboard is a relatively new feature in Photoshop, many users want to know if it's possible to make Artboard transparent in Photoshop. If you've been struggling with this question, we're here to help! In today's article, we'll share a detailed guide on how to make artboards transparent in Photoshop so that you can personalize the overall designing process.
Part 1. What does an artboard layer do?
If you're a beginner in Photoshop, you might not be familiar with the concept of Artboards. In simple terms, an artboard is basically a separate layer that allows you to add multiple canvases in a single document and work on different designs simultaneously. This is what an Artboard looks like.
As you can see, the above artboard has three different canvases and it's comparatively easier to work on all of them simultaneously. Ideally, UI/UX designers use Artboards to create different modules for their website/application. Since they can work on each module at the same time, it becomes way easier to ensure that every component of their product follows the same design theme.
When you create a new artboard in Photoshop, the software automatically creates a separate layer in the "Layer Grid". As opposed to other traditional layers, an Artboard layer is denoted with a dedicated Artboard icon.
Part 2. How to make Artboards Background Transparent?
So, now that you know what an Artboard can do, let's understand how you can make artboards transparent in Photoshop. It's worth understanding that Artboards can only have a transparent background if you are using the latest version of Adobe Photoshop.
Why? Because before 2017, Artboards didn't support transparent backgrounds. You either had to copy a PNG background to the canvas or save your design with a white background. It was only with the release of Photoshop CC 2017 that Adobe introduced the transparency feature for Artboards.
But, why is it important to use a transparent background in Artboards? Well, the answer is pretty simple. If you are designing the user interface templates for a mobile app or website, you might want to add a few logos to the design as well. But, it's worth noting that logos only look appealing when they have a transparent background. This is the major reason why designers are keen on making their artboards transparent in Photoshop.
So, here's the detailed step-by-step process on how to make the artboard's background transparent in Adobe Photoshop.
Step 1:
First of all, open Photoshop and create a new document. Make sure to set the document type as "Artboard" and select the appropriate size for the artboard.
Step 2:
You'll notice that the canvas has a single artboard. If you want to add multiple artboards, simply click the "Artboard" icon at the top menu bar.
Step 3:
By default, all the artboards will have a transparent background. So, right-click on the artboard that you want to make transparent and tap "Properties".
Step 4:
In the "Properties" window, click the "Artboard Background Color" drop-down menu and select "Transparent".
That's it; close the "Properties" window and the selected Artboard's background will become transparent instantly.
Part 3. Find an easier way to get images with transparent background
So, that's how you can make Artboards transparent in Photoshop. Apart from Artboards, many users also want to know if it's possible to make images transparent in Photoshop. The answer is Yes, but there's a big catch. The process to convert the background transparent in Photoshop is not easy. You'll have to follow a lengthy process to remove the white/solid background and make your image transparent. And, if you are not a professional designer, you might find it quite challenging to precisely remove the background.
This is when tools like Media.io come into play. It's an exclusive online background remover that utilizes Smart-AI to automatically detect and remove the background from an image. Thanks to its AI support, you won't have to manually mark the edges. The tool will precisely remove the background without damaging any details of the foreground whatsoever. Using Media.io for background removal will instantly speed up the entire process and you'll be able to create transparent images without any hassle.
Some of the key features of Media.io include:
Remove white/solid background with one click
Remove background from different types of images including JPEGs and PNGs
The tool supports bulk removal, which means you'll be able to remove background from multiple images easily.
You can also remove watermark from an image using Media.io
The tool also allows users to enhance images without losing their details
So, here's how you can remove the white background from an image and make it transparent using Media.io.
Step 1:
Open Google Chrome or any other web browser and go to https://www.media.io/ai-background-remover.html. Now, click "Upload Image" and select the picture whose background you want to remove. You can also upload an image by dropping it on the website or by simply pasting its URL.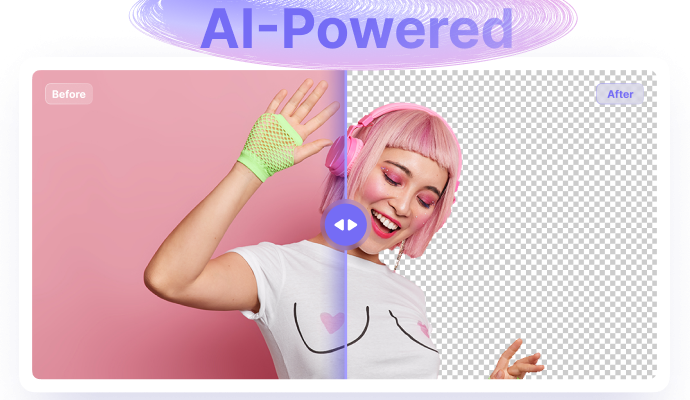 Step 2:
Once the image gets uploaded, Media.io will automatically start removing its background. This will only take 5-6 seconds to complete.
Step 3:
After the background is removed, you'll see the transparent image on the right side of the screen. At this point, simply click "Download Free" to save the image on your system for free.